JOIN THOUSANDS OF HAPPY CUSTOMERS WHO HAVE GIVEN SKYLIGHT TO A LOVED ONE!
The perfect gift for a loved one
There's no better way to put a smile on mom or grandma's face than to share a special photo -- perhaps a glimpse of your kids playing, or a magical moment from your exotic vacation adventure! 
Sure, you can share on Instagram or text. But grandma & grandpa get left behind that way. And even if mom has a smartphone, there's still something magical about having a physical home for your most treasured photos.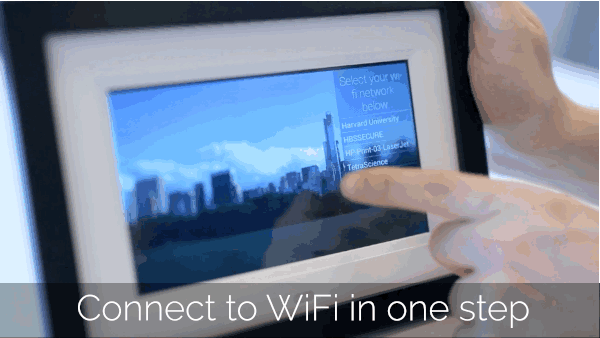 Delightfully effortless to use
We get it -- digital photo frames have always sucked. They never get updated. They sit in closets.
But we've built something that just works, in three easy steps:
1. Connect Skylight to a power source and it powers right up. 
2. Tap our touch screen to connect to Wi-Fi in <60 seconds 
3. Send photos to your unique Skylight email, and they arrive in seconds. Your loved one just sits back & enjoys!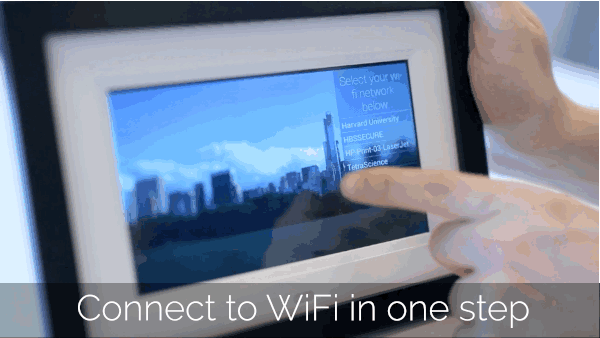 100% Satisfaction Guaranteed
With tens of thousands of happy customers, we're confident you'll love your Skylight. That's why we offer a 100% Satisfaction Guarantee -- or your money back!
DESIGNED TO DELIGHT
Effortless
1 minute set up

Just plug Skylight in, tap the screen to log into your wi-fi network, and go!

Email photos to your
Skylight in seconds

Everyone in the fam can send to your Skylight's unique email from phone or computer, and photos arrive in seconds.

Easy-to-use
touch screen display

Mom can swipe through photos, browse the gallery, delete photos, or pause the slideshow, all with just a tap.

Skylight highlights
newly arrived photos

A visual notification makes it easy to see when new photos have arrived.

The "Heart" button
lets you say thank you

Your loved one can tell you they loved a photo just by tapping the Heart button. Skylight then emails you to let you know!

Enjoy photos without wi-fi

Skylight requires wi-fi to receive new photos, but you can still view photos without a wi-fi connection.
USERS RAVE ABOUT SKYLIGHT
"I ordered Skylight thinking it'd be a good gift for my grandma who is largely home bound. I never anticipated the amount of joy Skylight would bring her. During my wedding abroad, we sent her photos throughout the trip. She absolutely loved it! It made her feel like she was right there with us!"

– Marianna S.

"It's so easy to use! This is the very best part. I gave it to my mom for Christmas, asked my aunts who live all over the US to send pictures, and when it was revealed on Christmas Day it made her cry!"

– Kelly Ann R.

"Thanks for helping our parents see their grandson grow up from 1100 miles away!"

– Jeffrey S.

"I have been a software developer for almost thirty years and it is rare that I see a product that works so well and works so seamlessly."

– Zev H.
Frequently Asked Questions
What kind of return policy do you provide?
Enjoy peace of mind with a 100% Satisfaction Guarantee. If you don't love your Skylight, we will offer you a full refund.
Is Skylight only for Grandma?
Grandma is just the beginning. You could gift Skylight to parents, kids, siblings, friends, your significant other ... or yourself.
How do I get my photos onto (and off of) a Skylight?
Each Skylight uses a dedicated email address (e.g., Grandma@ourskylight.com). You, and your whole family, can send pictures to the frame by email using a computer, but you can also send pictures from your phone right after taking them. All this makes Skylight a great sharing companion when you are on-the-go. Photos can be removed from your Skylight by following on-screen instructions
Do you need an Internet connection to use Skylight?
Skylight only needs Wi-Fi to get set up the first time and download photos to the frame. All other features will work without internet. You can set up the frame for your loved one by connecting it to a WiFi hotspot (using your phone or a tablet with a hotspot). When the frame is not on WiFi, any photos you send will be stored in our server. Then, when you visit, just connect to the hotspot and all the photos you've sent will get downloaded!
Do photos appear on Skylight as a slideshow? How do new photos appear?
Yes, photos appear as a slideshow on Skylight. You can always freeze it on a specific photo that you like though. When new photos appear, Skylight displays those photos before continuing with the slideshow. Skylight also displays a large "New Photos Have Arrived" button on the touch-screen, which your loved one can tap to see the newest photos.
Is my Skylight email secure - how do you protect against spam?
You control the dissemination of your Skylight email address. We would never sell or disseminate your email information. In addition, we are able, upon request, to limit who can send pictures to your Skylight (Whitelisting), or block specific offending email addresses (Blacklisting).
Does Skylight run on battery power?
No. Skylight needs to be plugged in to an electrical outlet to work.
Does Skylight work internationally?
Yes! We are shipping internationally, and all you need is a working Wi-Fi connection and an electrical plug adapter to match your country's style of electrical outlet. Please note that the adapter is NOT included, and unfortunately, we do not sell it in our store. You will need to procure an adapter separately.
How many photos can Skylight hold? What happens when you run out of space?
There is 8GB of memory available on Skylight, enough for 8,000+ pictures. You can easily delete photos using the "Delete" feature on our touch-screen interface. Or, when Skylight runs out of room, it will automatically replace your oldest photos with new ones as they come in.
What happens after I send a picture to Skylight?
When you email a picture to Skylight, our email server will hold the picture until it is downloaded. Once the picture is downloaded to Skylight, it will be backed up in our Cloud Portal. This allows us to transfer any photos back to your frame in case there is any damage to it, which would cause you to lose the photos permanently otherwise. However, Skylight does not use or own the rights to these photos for any other purpose.
How does a unique Skylight email address get assigned to a particular frame?
When you receive your frame, you will be directed to the webpage where you will create a unique Skylight email address for each of the Skylights you purchased. Our system will check that the unique address you request is available, and will generate an activation code. Once you receive your Skylight frame, simply enter the activation code for the unique email address you want on that frame and voila! your Skylight is now connected to its unique email address. What if I need to create my Skylight email address in advance?
What if I need to create my Skylight email address in advance?
If you'd like to create a Skylight email in advance, just email us at help@skylightframe.com
How do I get help or support?
Please review our support page. If you can't find the answer there, you can email us at help@skylightframe.com.